I finished up the San Francisco Bay Area Nifty Ninety peak list on my birthday, the fifteenth of June. It's my first real list completion (I'm not counting "Everest by the Bay" as I didn't follow a lot of the routes on those peaks). This is a relatively new list, published at the end of 2017 by the local Sierra Club. I had ascended 31 of the peaks when I became aware of the list, and tagged the remaining 59 over the next year and a half. Nothing on the Nifty Ninety is overly challenging, and it's a fairly straightforward list to go after for a Bay Area peakbagger. Unlike the older California Coastal list (which I've referred to as the "CC list" here) everything here is on public land. Some brief thoughts on each of the individual peaks, along with links to some photos:
Federal Sites
Berryessa Snow Mountain National Monument (photos)
Berryessa Mountain (3057′)
This is a bit of a haul from where I live in the South Bay, but very much worth it. Great views directly overlooking Lake Berryessa. It took me about seven hours round trip so plan accordingly if you're interested, and avoid when it's hot. Unfortunately this was burned badly in the County Fire last year and the trail, in good condition when I visited in December 2017, has been severely damaged.
Mount Vaca (2819′)
The Solano County high point. I did this from Mix Canyon Road back in 2015 in my first push through nearby county high points. Extremely easy but the communication towers somewhat spoil the scenery.
Point Reyes National Seashore (photos)
Mount Wittenberg (1407′)
Point Reyes Hill (1336′)
I did both of these over Memorial Day weekend last year. Point Reyes Hill is really the more interesting peak; I hiked it from Inverness Ridge, although you wouldn't miss that much by just using the near drive-up approach as only the beginning of said trail really has any views. The top of Point Reyes Hill is an FAA facility but there are a couple of benches on top where you can look out towards the ocean. Mt. Wittenberg, on the other hand, is a forested summit with no views, only really notable for being the highest point on Point Reyes. Might be more interesting to combine a visit there with a longer Point Reyes hike.
Golden Gate National Recreation Area (photos)
Hawk Hill (920′)
Hill 88 (950′)
Slacker Hill (915′)
These are all in the Marin Headlands. The hardest part about Hawk and Slacker Hills is finding parking, but it's obvious why these are popular; the views of the Golden Gate are spectacular. Hill 88, on the other hand, is a bit further back from the coast, near Rodeo Lagoon, and an actual hike.
John Muir National Historic Site (photos)
Mount Wanda (640′)
Nothing particularly notable about this one, an easy little jaunt near Martinez. There's some ambiguity about which of two neighboring peaks is Mt. Helen and which is Wanda, so I just tagged both of them.
State Parks
Robert Louis Stevenson State Park
Mt. St. Helena (4339′)
Mt. St. Helena South Peak (4003′) (photos)
The smart way to do these would be in one go. To get to the top of Mt. St. Helena South, you take the Mt. St. Helena trail to a saddle and then turns left instead of continuing straight for a short side trip. However, I did not do this the efficient way.
Mt. St. Helena was the third peak of the Nifty Ninety I ascended. While it is not a county high point itself, Napa County's highest point can be found on its eastern subpeak. I drove here directly from Mt. Tamalpais, underestimated the time required, and ended up getting back to the trailhead right at dusk; however I would have likely ignored the south summit anyway as just a miscellaneous subpeak surplus to objectives.
Mt. St. Helena South was the third-from-last peak of the Nifty Ninety I ascended. The summit itself is pretty ugly due in large part to the 2017 Tubbs fire, which had burned over Mt. St. Helena since I last visited. Now the southeast subpeak is the only summit of Mt. St. Helena that I have yet to visit.
Table Rock (2460′) (photos)
This uses the exact same trailhead as Mt. St. Helena but is 2.2 miles in the other direction. The really smart thing to do would be to park at the trailhead and do all three peaks in the same outing. Unfortunately I didn't have time to do that on any of my visits, as the park closes at sunset and I hit up other peaks on the way on each occasion; like Berryessa, this is a multi-hour drive from where I live. Table Rock itself isn't really a peak but I'm glad it was here nevertheless; it's a fun little Class 3 scramble overlooking the Napa Valley. It's the kind of thing I probably wouldn't have found myself but am grateful I visited.
Bothe-Napa Valley State Park (photos)
Coyote Peak (N) (1170′)
This was a fun little redwood hike (I love redwoods so I'm never going to complain about them) but nothing special, especially for the distance I drove to get here. No views from the summit and nothing too interesting on the way either.
Sugarloaf Ridge State Park (photos)
Bald Mountain (N) (2729′)
On the other hand, the views from atop Bald Mountain are great in all directions. This was well worth the drive. I did this as a nice loop hike through Sugarloaf Ridge State Park (adding the CC-listed Red Mountain on the way) and there are definitely options to extend the loop further if you has the time and inclination to do so—this only took me about three hours.
Olompali State Historic Park (photos)
Mount Burdell (1558′)
While this is the Olompali SHP high point, I did it the shorter way via the Mt. Burdell Open Space Preserve. It's a worthy peak objectively but I found it a bit frustrating because there's no clear high point and there's no trail along the ridge, meaning you're walking through thistles and sticker-spewing grasses. Plus there are enough trees that you're not getting many views. The Open Space Preserve itself is quite nice though, if nothing too different than elsewhere in Marin. This ended up being my last Marin Nifty Ninety peak just because it's a bit distant from everything else on the list.
Samuel P. Taylor State Park (photos)
Barnabe Peak (1466′)
The state park high point, I did this right after Point Reyes, which was not necessarily the greatest of ideas because after the beginning the trail has very little shade. Apart from the heat though, this has very nice views (and a lookout tower) towards both Point Reyes and Mt. Tamalpais. A worthy inclusion.
Mount Tamalpais State Park
Mount Tamalpais (2571′)
Not specified in the listing, but this is the east peak. I first visited this as a kid with my dad but reascended in June 2015 when going through local county high points. (Ironically, this isn't the true highest point of Marin County—that's still the paved-over West Peak.) It's a short hike from the nearby parking lot, although you could make it a lot longer if you wanted. And of course, the views are great.
Angel Island State Park (photos)
Mount Livermore (788′)
When I was growing up Angel Island was a thing I saw frequently but somehow never got around to visiting. I finally checked it out a couple weeks ago, taking the ferry from Tiburon and climbing to its top. Unfortunately it was a little too foggy to have much visibility, and the best views of Tiburon and Belvedere were actually a littler lower down, below the fog layer. I want to come back here at some point not just for the views but to also take the loop around the island and check out the various historic sites.
Mount Diablo State Park (photos)
Mount Diablo (3849′)
North Peak (3557′)
Mt. Diablo is likely the easiest county high point in the state; simply drive up to the top and step into the visitor's center. After spending a bit of time checking out the rest of the visitor's center and admiring the views, I decided this was too easy even for me and hiked out and back to the north summit. This was in 2015.
Mount Olympia (2946′)
Eagle Peak (2369′)
To get the other two peaks in Mt. Diablo State Park, I figured I'd just head up to Mitchell Canyon on the north side of the park and hike the other two peaks, making a big loop of it. Easy, right? Well, it took a good eight hours. However I'd call out Olympia in particular for having some really nice views to the north of Diablo, plus being isolated enough that you're not going to encounter lots of people up there, a rarity for this crowded park. I'd recommend combining Olympia with North Peak as the relevant trail junction is just over 400 feet below the latter, and I seriously considered reclimbing North Peak on the spur of the moment but decided it was too hot for side trips.
San Bruno Mountain State Park
San Bruno Mountain (1314′)
I did this as a birthday hike in 2015. It's the most prominent peak in San Mateo County and an obvious landmark when driving to and from San Francisco; the actual highest point is a little obscure because it's next to a communications tower. I'd also like to revisit this one because I was here on a foggy day that, while making the hike itself quite comfortable, made the views all but non-existent.
McNee Ranch State Park
Montara Mountain (1898′)
Did this from San Pedro Valley Park on a very foggy August day back in 2015, while chasing local CC-listed peaks. Might be worth a revisit for views; it's only a couple hours' worth of hiking.
Castle Rock State Park
Goat Rock (2850′)
One of only a couple entries on this list that requires scrambling. You could rock climb Goat Rock from its base if you're into that kind of thing. For lazy people like myself, there's a trail that gets you most of the way there and then an easy scramble up to the top of the rock. The actual highest point is at the end of a somewhat narrow segment of rock that I suspect a lot of people skip.
Big Basin Redwoods State Park
Pine Mountain (2150′)
This probably should be delisted; the spur trail that takes you to the summit is marked, apparently permanently, "Area Closed for Plant Rehabilitation" and is somewhat blocked with deadfall. There are no views at the summit but there is a massive cairn. Alternative nearby targets include Buzzards Roost, which I still need to actually climb one of these days.
Mount McAbee (1730′) (photos)
Based on the altitude listed this is actually a reference to McAbee Overlook, which is where I finished on 15 June. There's a nice little bench at the overlook and a nice little view of the ocean, although it's not anything particularly special. Still I'm never going to complain about a straightforward redwood hike. I skipped the bushwack to the actual summit due to lack of views and motivation to do so. Maybe another day, although 500 feet of prominence is not quite enough to get me excited about an otherwise uninteresting peak.
Chalk Mountain (1609′) (photos)
There are a number of ways to hike this. I went with a long loop from Waddell Beach, taking the Westridge Trail up and the Skyline-to-the-Sea (via Chalks Road and Henry Creek Trail) back. There's a lot of extra up-and-down on this route; I estimated 2114′ extra elevation gain on the way in and 4700 feet of gain total. Not bad for a peak only sixteen hundred feet tall!
While on the way out along Chalks Road I heard a noise that I first took to be a leak in my water supply before looking to my left and noticing an unhappy snake on the hillside to my right. I quickly bypassed the snake but it would have been a long way to help if anything had happened.
The Henry Creek Trail has multiple crossings of West Waddell Creek. The last crossing, right before the Skyline-to-the-Sea junction, was pretty wide at this time (May 2017), if not notably fast, and required proper precautions in crossing. Be prepared to get your feet wet.
Henry Coe State Park
Mount Sizer (3216′) (photos)
I took about seven hours to do the infamous "Sizer Loop" from Coe Ranch. This includes one of the steepest trails in the Bay Area (the Hobbs Road "shortcut"), which gains 1700 feet in just 1.3 miles. Sizer itself is nothing too exciting but it and its ridgeline have some pretty great views into the Coe backcountry.
Willson Peak (2651′) (photos)
Vasquez Peak (2210′) (photos)
Bills Hill (1988′) (photos)
I made a very long loop of all of these from Hunting Hollow on Memorial Day. This would not have been possible without the weather being unseasonably cool and cloudy, otherwise I'd have gone through way too much water to make this viable. Willson and Vasquez should generally be combined as they're on nearby ridgelines but Bills Hill is its own special brand of fun, as the trail to the top is heavily overgrown and full of ticks. The view from Bills to the west is quite nice though once you do get up there.
Burra Burra Peak (2281′) (photos)
I did briefly think about trying to cram this into my Memorial Day hike but it would have been too much. Instead I tagged it a couple weeks later from Dowdy Ranch. An easy hike (with annoying flies at the top). Be careful of Dowdy's early closing time; I drove out at around 5pm and encountered a ranger on the way down who had just closed the gate going up and told me that it wasn't locked but to just close it behind me when I got to it.
North Bay Regional Parks
Mount Hood Regional Preserve (photos)
Mount Hood (2730′)
I did this from Pythian Road on Memorial Day 2017 after hiking to the top of Sonoma Mountain (2463′), the most prominent peak in the county, earlier that day. The summit of Hood Mountain itself is nothing special but a short detour from the summit gets you to the Gunsight Rocks, which have spectacular views right down into the Sonoma Valley. Unfortunately his area was burned over badly in October of that year so I suspect the forest hike is a bit less pleasant than it was when I did it. If focused on the Nifty Ninety, I'd try to combine this with Sugarloaf Ridge State Park as it's only a short drive away.
Loma Alta Open Space Preserve (photos)
Loma Alta (1592′)
This has great views of central Marin marred, in my case, by surprisingly strong winds. The parking is directly off Sir Francis Drake Boulevard. The hiking took me a bit under an hour each way. A lot of the Marin peaks that follow (and precede, for that matter) are easy, fairly short hikes that can and should be done in conjunction with each other.
White Hill Open Space Preserve (photos)
White Hill (1430′)
The hardest part of climbing White Hill is finding where to legally park as there are signs rather ambiguously restricting street parking. I'm not entirely sure my parking spot was 100% legal but figured it was close enough that I was unlikely to get in trouble in the time it took me to summit and return. The views are really good for a fairly low-effort summit.
Mount Tamalpais Watershed
Pine Mountain (1762′) (photos)
The second Pine Mountain on this list! The real highlight of this hike for me was not the peak (which has good views but nothing that distinguishable from any of the other nearby peaks) but the waterfalls I visited on the way back. Carson Falls has multiple stages for a good 75 feet of water drop.
Pilot Knob (1187′) (photos)
This is a spectacularly easy hike (ascent took me less than twenty minutes) but you're looking directly at Lake Lagunitas when you get to the summit, and you're close enough to Mt. Tamalpais that you get some of the best views up to the actual mountain that I've seen. Recommended especially for the lazy.
San Pedro Open Space Preserve (photos)
San Pedro Mountain (1058′)
One of the less exciting Marin peaks. The summit is too broad and flat (and surrounded by brush) for any views, plus it's marred by communications equipment. There's some nice looks into San Rafael on the way up though.
Skyline Wilderness Park (photos)
Sugarloaf Mountain (1630′)
I did this in March and it was worth it for the wildflowers alone. The actual summit here is not particularly interesting but on the switchbacks just below the summit you get great views of Napa and the northern end of the Bay itself. Skyline Wilderness Park also has a pretty nature garden near the parking area that makes for a nice spot to relax.
Hiddenbrooke Open Space (photos)
Sulphur Springs Mountain (1112′)
This felt a little weird to me because the hike rises directly over a subdivision and an associated golf course, until they're blocked by intervening hills near the summit. The trail was a bit muddier than I was expecting due to recent rainfall.
San Francisco Regional Parks
Mount Davidson (925′)
The San Francisco City and County high point, crowned by a large cross that technically lies on private property. A surprisingly fun park to wander around in that feels more wild than it really should. No views from the summit but what I suspect are probably good views of the city from the trail; it was too foggy when I visited to know for sure.
Twin Peaks (922′)
The big tourist viewpoint in the City. The actual summits are slightly less full of people than the parking area and overlook but it's still very, very busy. Understandable; you're looking right at downtown San Francisco.
Mount Sutro (908′) (photos)
Tank Hill (650′) (photos)
Corona Heights Crag (510′) (photos)
Bernal Heights (459′) (photos)
Hayes Hill (265′) (photos)
I took a nice long walk through San Francisco and hit up all of these on the Sunday of Labor Day weekend last year. Sutro has no views but feels the most wild of any of these, as you have to do a bit of trail walking through a tree-filled city park to get to the top. The rest of these are right next to city streets and offer various perspectives on the City. Fun and easy.
Nob Hill (325′) (photos)
Russian Hill (300′) (photos)
Telegraph Hill (275′) (photos)
This was an earlier walk through San Francisco, but with a twist—I was in the City for a work training session that let out early, so I decided to take the rest of the day to tag some peaks, made a bit spicier by the need to conform to the Muni/Caltrain schedules. The highlight here is Telegraph Hill, home of Coit Tower. I've still never actually been inside of Coit Tower (it was closed when I got there) but it really is a nice little area, with the Filbert Steps a fun route down.
East Bay Regional Parks
Ohlone Wilderness
Rose Peak (3817′) (photos)
Schlieper Rock (3080′)
These are both on the Ohlone Wilderness Trail, which can be approached from either Del Valle or Sunol Regional Parks. When I first visited the Ohlone Wilderness in 2016, I came via Del Valle, as my primary objective was the Alameda County high point which is notably closer to Del Valle than Sunol. On the way back, I scrambled up Schlieper Rock to enjoy the view across Williams Gulch. I had considered tagging Rose Peak that day but decided I didn't want to deal with the extra elevation dip of Indian Creek.
Williams Gulch, of course, is the most frustrating feature of the Ohlone Wilderness Trail from Del Valle, adding five hundred feet of extra elevation gain in each direction. (It's especially brutal on the way out at the end of a long day.) Not wanting to deal with it yet again when I finally got around to Rose in April, I started from Sunol and had a fairly gentle but long hike through the cows to the top. It was surprisingly pleasant for a peak I had been putting off for a while, with views in all directions, including the "back sides" of Mission Peak and vicinity.
Mission Peak Regional Preserve
Mission Peak (2658′)
Monument Peak (2594′)
Mission Peak may be one of the most congested peaks in the Bay Area. The parking lot is consistently full and the neighbors don't want hikers parking on their streets. The main trail up is packed and so is the summit (complete with a photo-friendly pole). Why? Because of the views, directly overlooking Fremont and the South Bay as a whole.
There's no way to get around the crowds at the summit, but you can enjoy a bit more tranquility on the way up by taking instead the Horse Heaven trail. This puts you on the south side of Mission Peak when you reach the ridge, and traversing further south leads you eventually to Monument Peak, passing on your way Mt. Allison, the private-property highest point in the area. I saw very few others along the ridge and it made a pleasant change from the hordes at Mission.
Tilden Regional Park
Vollmer Peak (1905′)
Grizzly Peak (1740′)
I did these together in March 2017 as part of a cloudy day spent bagging peaks in the Oakland Hills. All of these peaks are extremely easy, with most of the day's activity being driving. Vollmer is slightly spoiled by communications towers at the top but there are good views in every direction if you're willing to walk around said towers and look around trees. Grizzly is one of the more questionable list inclusions in my opinion as it has somewhat questionable access (again, a communications company) and the view is really no improvement on what you can get from the parking area.
Wildcat Peak (1211′)
I ran out of time for this on that day in 2017 so did this with my friend Marissa in December 2018—my last peak of the year. It's another easy peak in the Oakland Hills but has a nice little circle on top where you can walk around and check out the 360 degree views.
Sunol Regional Wilderness
Vista Grande (1840′) (photos)
Flag Hill (1360′) (photos)
I decided to check out Flag Hill and Sams Peak in a November 2017 trip to Sunol. Flag Hill isn't too exciting on its own but looks directly down into the parking area and the road to Little Yosemite. This is an area of the park while, not unpopular, doesn't see as many visitors as the Little Yosemite trail. Sams Peak is a bit further beyond and, while not on the Nifty Ninety list, was the main objective of the day, having 300′ of prominence and views to the north.
Vista Grande was a bonus "peak" that I hit at the end of the day, driving over to Welch Creek Road and walking over. It's really more of an overlook, with views over the entirety of the Sunol Regional Wilderness south of Welch Creek Road, although I did make sure to step over the highest ground nearby.
Maguire Peak (1688′)
Usually referred to as the Maguire Peaks plural, although I've only been to the higher summit. A fun hike from Welch Creek Road in a less developed part of the park. I ran into another hiker at the summit and we chatted for a while about various topics, including the flowers and the lizards that frequented the summit.
Las Trampas Regional Wilderness (photos)
Las Trampas Peak (1827′)
Vail Peak (1787′)
Eagle Peak (1720′)
I'm not entirely sure why Las Trampas has three peaks on this list. It's a nice park and a nice ridge walk, to be sure, but Vail in particular doesn't have any views and a mere hundred feet of prominence. Las Trampas Peak is the standout here, although Eagle Peak does have a nice view of Mt. Diablo. To the west of the trailhead is Rocky Ridge, a P1K that I still need to visit; I would have done it when I visited the first time had I had the requisite permit.
Sibley Volcanic Regional Preserve
Round Top (1763′)
Another peak I bagged on that Oakland Hills day. The summit is unremarkable (communications towers and view-blocking trees) but the loop trail itself has some interesting signage about the area's volcanic legacy. May be worth a revisit on a less cloudy day when I have more time to complete the loop.
Brushy Peak Regional Preserve (photos)
Brushy Peak (1702′)
This summit can only legally be accessed via a guided tour from the Livermore Area Recreation and Park District. The summit itself is yet another forested East Bay summit with marginal views. However the Brushy Peak Regional Preserve lends itself to a nice loop hike at the far eastern edge of the Bay Area, with nice views over both Livermore and the hills to the east. The loop hike is good, the peak is meh.
Redwood Regional Park
Redwood Peak (1619′)
This was my first stop on that Oakland Hills trip I keep mentioning. It's a nice little redwood hike that was a good warmup for the day, even if there's nothing really to see at the top. (Except redwood trees. I like redwoods!)
Black Diamond Mines Regional Preserve (photos)
Rose Hill (1506′)
Tucked away near Antioch, I headed here after Mt. Wanda. The trail to Rose Hill takes you through the historic Rose Hill Cemetery, where those who died in the coal mining town of Somersville in the second half of the 1800s are buried. Once past the cemetery, the trail up is surprisingly steep and leads you to good views especially to the north, looking towards Suisun Bay. Unfortunately I just ran out of time to check out the visitor's center and mines before closing time, but I'd be interested in coming back at some point to get more on the history of this area.
Briones Regional Park (photos)
Briones Peak (1483′)
Mott Peak (1424′)
Russell Peak (1357′)
Another cow-infested East Bay regional park. Again, probably all three peaks don't really need to be here (although annoyingly, the peak with the most marginal views would be Briones, the high point), but it's a nice excuse for a loop around this park. I also added Table Top as a bonus peak along the way, between Briones and Russell.
Dublin Hills Regional Park
Donlan Point (1139′)
An exceptionally easy peak overlooking Dublin, as well as the houses built right nearby. Lots of cows, and grass that wants to spread its seeds on you.
Dry Creek Pioneer Regional Park
Gossip Rock (1080′)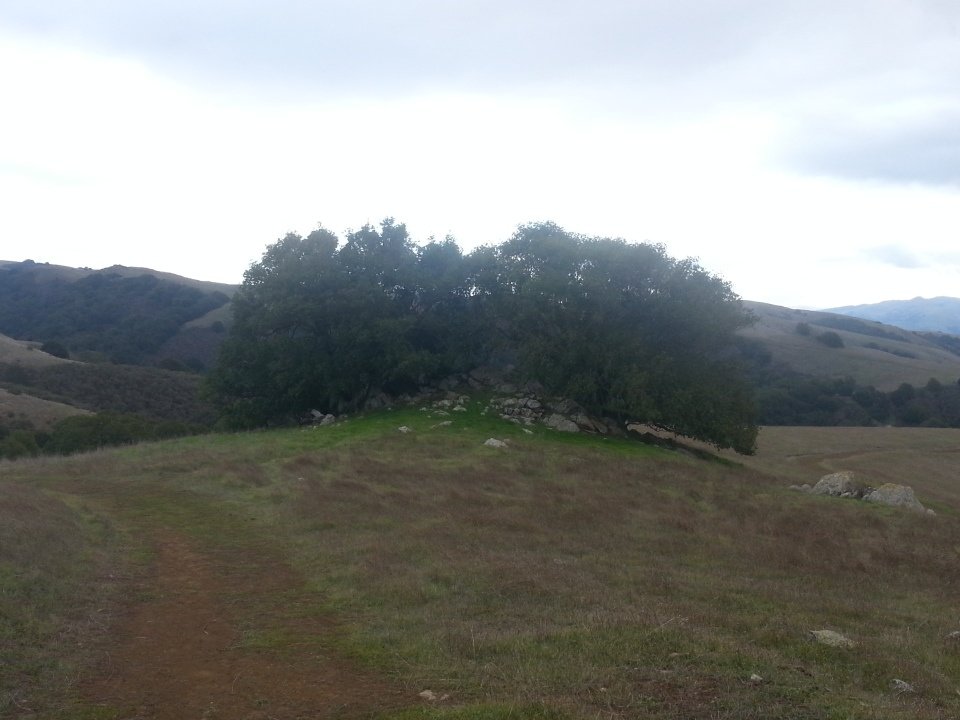 One of the more questionable entries on the CC list. I first visited Dry Creek Park for this point in January 2016. You can imagine the rock as a "gossip" place for the Native Americans who lived here back in the day but otherwise this is mainly an excuse to walk through the park. Obviously, worth combining with Tolman if you're here for the Nifty Ninety.
Tolman Peak (995′) (photos)
A bump near Walpert Ridge, which is sadly on private property on the other side of the park boundary. Perhaps the most notable thing about Tolman is the geocache on top commemorating United Flight 615, which crashed about 87 feet below the peak on 23 August 1951.
Garin Regional Park
Garin Peak (948′) (photos)
From Dry Creek Park it is only a quick drive along Mission Boulevard to Garin Park. Garin has a couple hundred feet of prominence, which is enough for good views over the Bay as well as more casual views toward the house-choked hills behind it.
Peninsula Regional Parks
Windy Hill Open Space Preserve
Windy Hill (1905′)
There are two ways to hike this peak; from the Spring Ridge Trail, 1200 feet and a couple miles below, or Skyline Boulevard, right next to the summit. I did it the lazy way. This was back in July 2015, when I was on my first rush of CC-listed peaks; it was my ninth Nifty Ninety peak.
Russian Ridge Open Space Preserve
Borel Hill (2572′)
This is just a bit down the road from Windy Hill via Skyline Boulevard. Like Windy, this treeless summit has great views of the Peninsula and South Bay. I did this CC-listed peak right after Windy.
Mindego Hill (2143′) (photos)
This peak, on the other hand, is not on the CC list. I'm glad it's on the Nifty Ninety because otherwise I might have missed out on this fun little jaunt in the Santa Cruz Mountains, with views clear on out to the Pacific. My summit experience itself was marred by a few kids that were enjoying themselves a bit too raucously for my tastes. Off the trail, there's also the Council Circle which has good views of nearby Langley Hill; the trailhead also has a nice scenic overlook if you don't want to hike.
Monte Bello Open Space Preserve
Black Mountain (2812′)
This one's more about the exercise than the views. Via the Rhus Ridge Trail, this will gain you 2240 feet in about five miles, and there are steeper options if you want them. The summit area has a bunch of rocks over a large, somewhat flat area; not too exciting but a good spot for lunch.
Upper Stevens Creek County Park
Table Mountain (1852′)
This has my vote for most pointless entry on the list. No views, no clear summit, and the worst part is that the trailhead from Skyline Boulevard is a good seven hundred feet higher. Not really sure why you'd visit except for the list credit and maybe the exercise, although there's plenty of more fun hikes you could do for the latter.
South Bay Regional Parks
Joseph D. Grant County Park
Antler Point (2995′) (photos)
I did this from the Hotel Trailhead, fifteen hundred feet below. The highest peaks in Santa Clara County are mostly on private property, but this, the highest point in the park, makes a fine substitute, and you can extend your route here depending on just how much of the park you want to visit. There are really two places to visit at the top; an overlook with a bench and views of San Jose, and the actual highest point. You also have an up-close-and-personal look at the Mt. Hamilton ridge, twelve hundred feet above.
Mount Hamilton (4213′)
A drive-up from the Mount Hamilton road, overlooking the South Bay. Obviously, check out the observatories when you're here. This is not technically the highest point in Santa Clara County; for that, you need to go a bit further along the ridge (and the road) to Copernicus Peak, at 4360+'. A spur-of-the-moment visit here in May 2015 is what got me back into hiking and peakbagging; I looked at Copernicus from the observatory, said to myself "huh, is that the highest point in the county", and the Internet provided.
Almaden Quicksilver County Park (photos)
Mines Hill (1728′)
Church Hill (1450′)
Almaden Quicksilver is less interesting for its peakbagging than it is for its history. This was the site of the New Almaden mercury mines, in operation for over a century. Mine Hill overlooks both the crest of the Sierra Azul (including nearby Mt. Umunhum) and is worth the trip to the top. On the other hand, while I'd absolutely recommend visiting the area of Church Hill to see the structures remaining from English Camp, the actual summit has little to recommend it.
St. Joseph's Open Space Preserve
St. Joseph's Hill (1253′)
Easy but fun; St. Joseph's is accessed from near the Lexington Reservoir and provides good views of the same. I recommend making a loop hike of this; it took me just a bit over an hour.
Sierra Azul Open Space Preserve
Mount Umunhum (3486′) (photos)
One of the highest peaks in the Sierra Azul, this was cleaned up and finally opened to the public in September 2017. I visited a month later via the Umunhum Trail from the Bald Mountain Parking Area, and would highly recommend this route rather than just driving up. Atop Umunhum is a Cold War facility in the shape of a cube that's visible from much of the South Bay. It's also home to some interpretive signage about its years as an Air Force facility, a Ceremonial Circle, and outstanding views of the Santa Clara Valley. Make time to visit!
Mount El Sombroso (2999′)
Ticked this one off my list in December 2016 when I just needed to get out of the apartment. From the Limekiln Trailhead I made a bit of a loop, ascending via the Priest Rock Trail and descending via the Limekiln Trail. El Sombroso overlooks the higher nearby mountains of Umunhum and Thayer, and the trail provides looks down toward the South Bay.
Bald Mountain (S) (2387′) (photos)
This should really be done along Umunhum as it's just a quick jaunt from the trailhead. I, however, did not do this as I didn't really know about Bald Mountain when I first visited Umunhum, prior to the existence of the Nifty Ninety list. So I stopped by right before heading over to Almaden Quicksilver; the trailheads are quite close to each other.
Santa Teresa County Park (photos)
Coyote Peak (S) (1155′)
The highest point of the Santa Teresa Hills, Coyote Peak has nice views of the Bay Area from the south. I made a nice loop through the hills on this hike, and I'd recommend doing so when visiting this area.
Uvas Canyon County Park (photos)
Nibbs Knob (2694′)
Tucked away in the southern Santa Cruz Mountains, to get here one has to first pass through the Swedish retreat of Sveadal. The hike up to Nibbs Knob is steep, with 1600 vertical feet gained in 1.7 miles. The summit itself has a picnic bench with views towards Loma Prieta, the highest point in the range at 3786′. (Loma Prieta would make a great addition to this list if it wasn't technically off-limits.)
Back at the trailhead, I checked out the several waterfalls of Uvas Canyon. There's decent variety and in December 2018 there was definitely a good amount of flow. If you're here, they're definitely worth seeing.
Mount Madonna County Park (photos)
Mount Madonna (1897′)
The southernmost peak of the Nifty Ninety. It's not too exciting in and of itself but I hiked it from a few hundred feet below to get in some redwoods before reaching the summit; I get the impression one of the primary attractions of this park is as a camping area. There's also a goat paddock near the top.