I've been pretty bad about updating pictures and other anecdotes of my various adventures here (and elsewhere). This is going to be the last set of reports posted en bloc; I'll be switching to individual trip comments after this.
Below the fold, here's some stuff from the first four months of 2017.
Hunter's Point (945′)
Maisie's Peak (1163′)
Nob Hill (1126′)
12 February 2016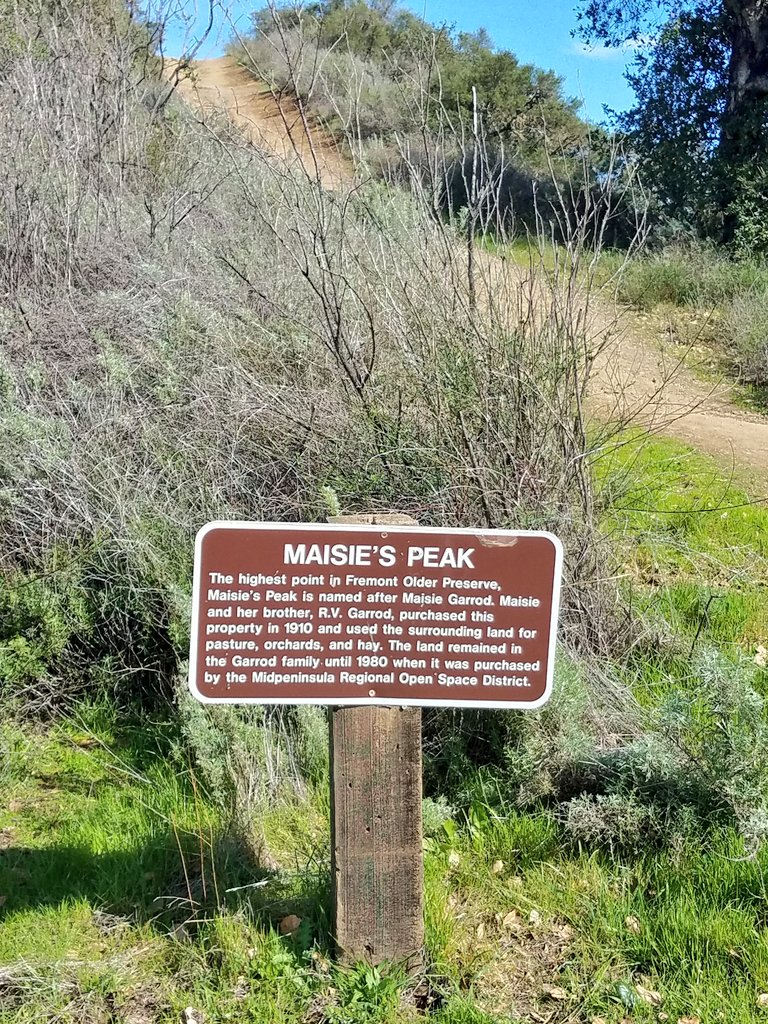 This was a two-hour hike around Fremont Older Open Space Preserve, a nice (and dog-friendly) place for some outdoor time close to home. After not having had a chance to get out much for the last couple months it was a welcome diversion.
Redwood Peak (1619′)
Round Top (1763′)
Chaparral Peak (1760+')
Vollmer Peak (1905′)
Grizzly Peak (1740+')
4 March 2017
It was the week after the Western Regional Quidditch Championship, which meant no practice and some free time to head out to the East Bay and tag some peaks on the California Coastal list.
First stop: Redwood Peak, a quick jaunt in Redwood Regional Park. There aren't really any views from the rocks that form the summit, but it's nice to be in among the big trees.
I next headed north to Round Top in the Sibley Volcanic Regional Preserve. The summit, with its communication towers and lack of views, is really not the best part of this peak—instead, I recommend enjoying the loop trail around the mountain.
The next stop north was Chaparral Peak, which isn't much to speak of on its own but is the highest point of Oakland. It's also right next to Vollmer Peak, a P1K in Tilden Regional Park.
My final stop along Grizzly Peak Boulevard was, of course, Grizzly Peak. This required dodging a gate along the access road, and then locating a part of the fence around communications towers that isn't secured to the ground. Simple and quick enough. The best views are probably those you can get from the road, though.
North Chalone Peak (3304′)
Highest point of Pinnacles National Park
16 April 2017
3:15↑, 1:30↓
I wanted to do some hiking in Pinnacles before the summer heat kicked in, and what better time than during a free weekend the weekend after quidditch national championships?
Well, it turns out that trying to park in Pinnacles during a free weekend is a bit challenging if you don't get up super early. Instead of parking at Bear Gulch as I had originally planned, I ended up parking at the Visitor Center and, losing patience with the shuttles, hiking up the road (looking at the titular Pinnacles on the way) to Bear Gulch. After reaching the trailhead, I went through the Bear Gulch Caves to the Chalone Peak Trail, eventually reaching the summit. Unfortunately I didn't have time to continue to South Chalone Peak, the wilderness high point, for fear of missing the shuttle back to the Visitor Center.