I've been pretty bad about updating pictures and other anecdotes of my various adventures here (and elsewhere). I'm not going to get up-to-date by the end of the year. But I'll see what I can do.
Below the fold, here's some stuff from the last seven months of 2016.
Mount San Antonio (10,064′)
Ultra prominence peak
Highest and most prominent point of Los Angeles County, CA, and the San Gabriel Mountains
12 June 2016
I was visiting Los Angeles for the weekend with some friends. Originally we were going to officiate the first-ever Major League Quidditch series in Los Angeles, but that got cancelled because the visiting Phoenix team couldn't field enough players. Having already made the plans, we went anyway.
I had seen Mt. San Antonio (or as we called it locally, "Mt. Baldy") constantly when going to college in Claremont but had never bothered climbing it before. From the Baldy Ski Lift parking area it's a straightforward if nontrivial hike, with lots of others enjoying the trail this June weekend.
Desirous of getting back in time to watch what would be the end of the Stanley Cup Finals, I cheated a little and took the ski lift down. After the Sharks' season unfortunately ended, we went to Zero Escape: Trust on Trial room and then I drove home. Due to a flat tire en route, I didn't get to bed until dawn. It was a fulfilling yet very tiring day.
Caliente Mountain (5106′)
Highest and most prominent point of San Luis Obispo County, CA, and the Carrizo Plain National Monument
16 June 2016
One thing I really wanted to do this year was extend my "home glob" of connected counties whose high points I have visited into Southern California. To do this from the Bay Area, you either need to go through the High Sierra, loop all the way through Nevada, or go down the coast. I opted for the third option as the easiest and fastest.
Caliente Mountain requires some fairly steep dirt-road driving to even get to the trailhead. Once you've parked, this is a long-ish but straightforward day hike. The views down into the Carrizo Plain are gloriously desolate.
Murdock Mountain West (10,840′)
Highest point of Wasatch County, UT
19 June 2016
I was in Salt Lake City to officiate another Major League Quidditch series, this one between Salt Lake City and San Francisco. While the day after was mostly going to feature the long drive home, I had a bit of time for highpointing. The easiest (especially given that it was only June) high point in the vicinity appeared to be that of Wasatch. It's a "liner" near Murdock Mountain, just off of Highway 150.
Unfortunately, this proved to be a bit harder than it looked on paper just due to identification problems. There were multiple cairns along what my GPS identified as the line between Wasatch and Duchesne Counties, as well as large snow patches that I didn't trust to support my weight. (Postholing onto loose rock did not sound like a fun time.) I covered the county line as best I could and I figure that I very likely covered the highest ground at some point. Still, if I ever get a decent pile of Utah county high points I'll probably want to revisit this with less snow, if for no other reason than to sign the register which I couldn't find.
Corral Hollow Hill (8170+')
Highest point of Calaveras County, CA
4 July 2016
An OHV trail leads one to the highest point in Calaveras County. Although which point is actually highest is a bit ambiguous, as Corral Ridge lies upon the line between Calaveras and Alpine Counties. The point pictured has the best view, but there is another point in the woods that has a very similar elevation and a Gatorade-bottle summit register containing the names of almost every notable county highpointer.
Bear Mountain (2893′)
Most prominent point of Calaveras County, CA
4 July 2016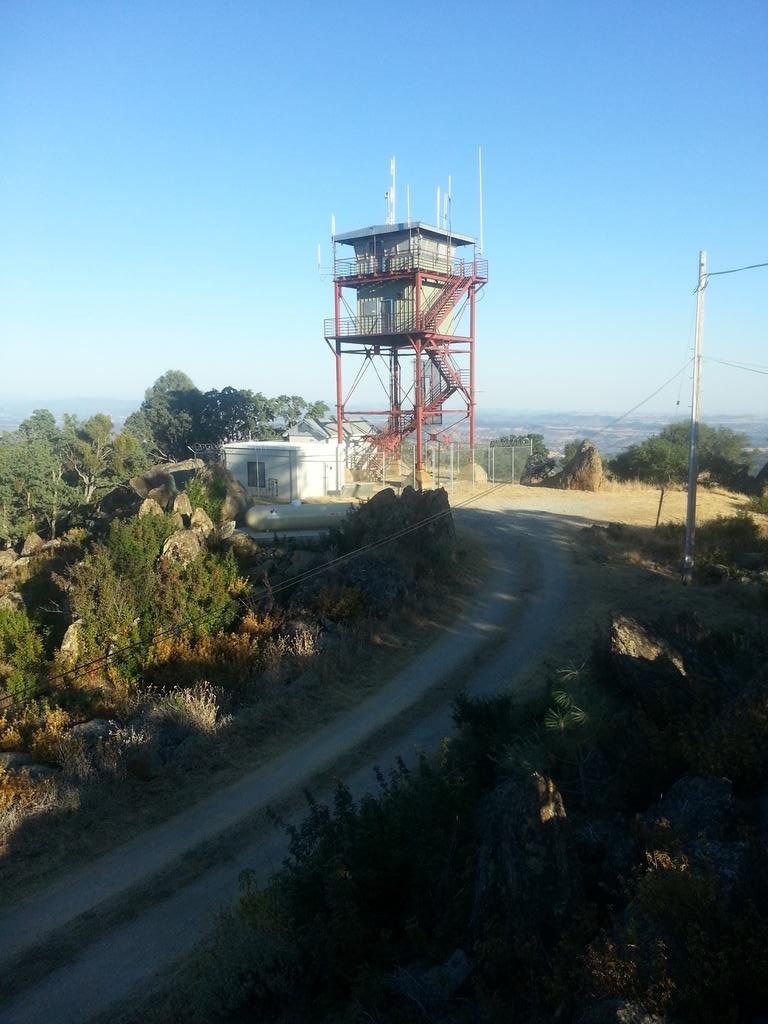 On the way back from Corral Hollow Hill via Highway 4, I took a short detour up to Bear Mountain. There were a lot of CAL FIRE people around and some of the area looked pretty burnt, but nothing was closed and I was able to drive all the way up to the final gate below the summit, which was a quick walk from there. I clambered atop the highest rocks to claim the peak, which hosts the active Fowler Lookout.
On my drive home I saw the usual multi-city fireworks spectacular that one gets when zooming through California freeways in the early Fourth of July evening. One of these years I need to find a legal high spot to watch the Bay fire off their pyrotechnics—unfortunately most Bay Area parks close at sunset.
Lassen Peak (10,457′)
Ultra prominence peak
Highest and most prominent point of Shasta County, CA
Brokeoff Mountain (9235′)
Highest point of Tehama County, CA
9 August 2016
It was the one hundredth birthday of Lassen Volcanic National Park, which meant free entry and an excellent excuse to hike up a peak I've wanted since a family vacation to the Park nearly a decade prior.
I actually have very little to add about Lassen Peak itself. It's a relatively easy hike for a major peak (2.3 miles, 1994 feet of gain). Highly recommended, of course, but very popular—the parking lot is huge—and straightforward. There's a little bit of snow you have to go through to get to the actual summit but it's very well-trod. I considered hiking around the crater rim to tag the highest point of the Lassen Volcanic Wilderness but decided against it due to time constraints.
Why time constraints? Because I also wanted to get the high point of nearby Brokeoff Mountain, which is on the side of the Park. The trailhead is actually right before the park entrance toll station, although there are signs warning one to have proof of entrance fee payment when parking. Not a problem today, of course. Brokeoff is a longer hike than Lassen Peak and far, far less populated. The summit also features a fantastic view of Lassen.
I hiked back from Brokeoff as twilight gathered, and just before I got back to the parking lot, I spied a black bear in front of me. I hung back and the bear soon wandered across the trail and out of sight. It was the first time I had seen a bear in the wild while afoot and alone.
Sawmill Mountain (8818′)
Highest point of Kern County, CA, and the Chumash Wilderness Area
Mt. Pinos 2x (8831′)
Highest point of Ventura County, CA, and the Los Padres National Forest
24 August 2016
Back in March I had aborted an attempt on Sawmill due to snow. I returned after it melted and found the trip an easy one, even if the 500′ drop between Pinos and Sawmill is a bit annoying.
Sunset Heights (812′)
21 October 2016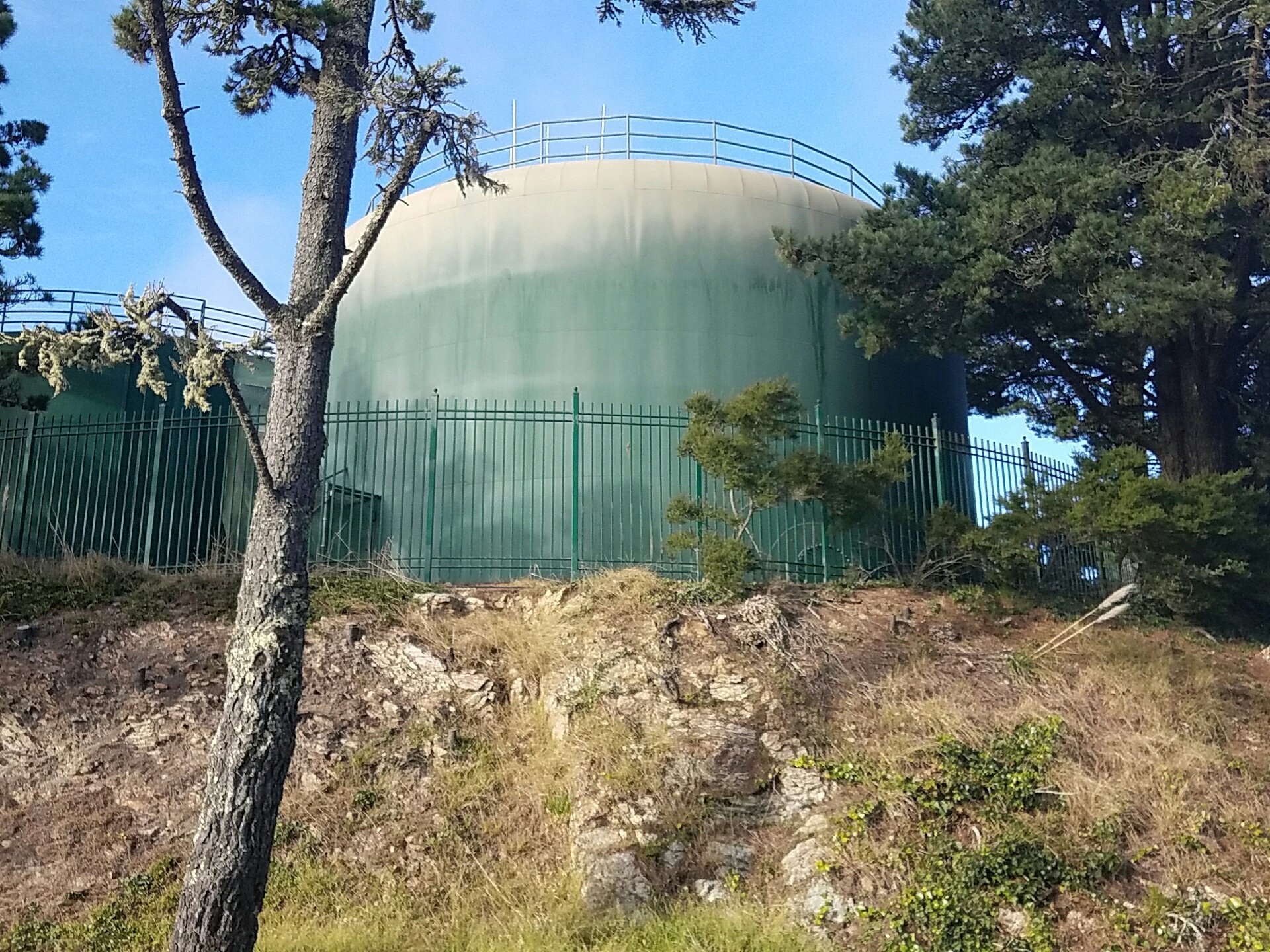 Due to budgetary restrictions, it had been nearly two months since I had been up any peak at all. I happened to be in San Francisco and, filled with the urge to tag remotely anything worth tagging, looked up a list of 300-foot prominences and ascended the nearest.
Mt. Allison (2658′)
Mission Peak 4x (2517′)
24 November 2018
The highest point of the ridge that includes Mission Peak is known as Mt. Allison, and it's also the only part of that ridge that's on private property due to the KICU tower. Which meant that Thanksgiving was an ideal time to tag it. I went up today and was undisturbed except for cows and wind.
Since then, I've heard that Mt. Allison now features cameras, motion detectors, and loudspeakers warning visitors away. So don't do this hike. Stick to Mission and Monument.
Pine Mountain (2208′)
25 November 2018
1:33↑, 1:24↓

For Black Friday, the Save the Redwoods League gave away free passes to California redwood state parks. I headed down to Big Basin to tag Pine Mountain, a CC-listed peak.
Big Basin Redwood State Park is a wonderful park full of (surprise!) redwoods, and it was full of people today. I took the Pine Mountain Trail up to the spur for Pine Mountain itself, which was marked "Area Closed for Plant Rehabilitation" and blocked with deadfall. Hopping the deadfall led to this cairn atop the mountain.
Given the closure, I'm not entirely sure why Pine Mountain was subsequently added to the Nifty Ninety list. Perhaps the list creators should suggest climbing Buzzard's Roost instead.
Santa Rosalia Mountain (2629′)
27 November 2016
0:52↑, 0:48↓

To finish off my Thanksgiving weekend hiking, I headed up to Santa Rosalia Mountain, another CC-listed peak, on Sunday morning. There are a few views on the trail but the summit is completely forested over. Not particularly exciting, but decent bit of exercise.
At the time Santa Rosalia Mountain was believed to be the highest point of the Forest of Nisene Marks State Park. It has since been determine that the true state park high point is located on the third contour to the west through heavy poison oak. I have no plans to visit.
El Sombroso (3000+')
25 December 2016
2:35↑, 2:10↓

One last hike this year to keep the bad thoughts away. El Sombroso used to be the highest you could legally get in the Sierra Azul, although the opening of Mt. Umunhum has changed this. Speaking of which, El Sombroso has some really great views of Umunhum.
There are a few different ways you can get to the top of El Sombroso. I parked off of Alma Bridge Road and took the Priest Rock Trail up and the Limekiln Trail down.
I remembered to take some pictures of the views this time but for some reason they didn't save; I was still getting used to my new phone at this point. There will be one more summary post (covering the first four months of 2017) and then these will slow down to more of a post-per-trip rate.